|
Running time : 23:56 min
Actors : Trystan Bull, Anthony Romero
Description
Trystan Bull decided to invite Anthony Romero over after sharing an active afternoon at the downtown gym. Trystan's been bummed out lately, due to his wife's vice grip on his balls. He can't get away with anything in the house! All his athletic equipment and tools must stay in the garage. And worst of all, she's not putting out anymore. Venting to Anthony sure is a relief.

When Anthony tells Trystan he doesn't have the same problems, Trystan's not surprised. He's suspected Anthony doesn't have a woman to deal with because he exclusively enjoys dick. Sure enough, Anthony has been looking forward to helping Trystan blow off his sexual frustration. Watch him slurp Trystan's fat cock down in Trystan's mancave - the only place where the Bull can do whatever he wants!

Enjoy!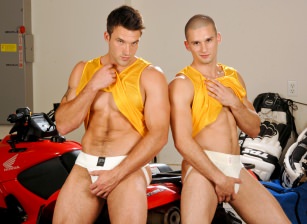 Recommended Movies
No records were found that match the search criteria.